Valley of Fire Tour by Jeep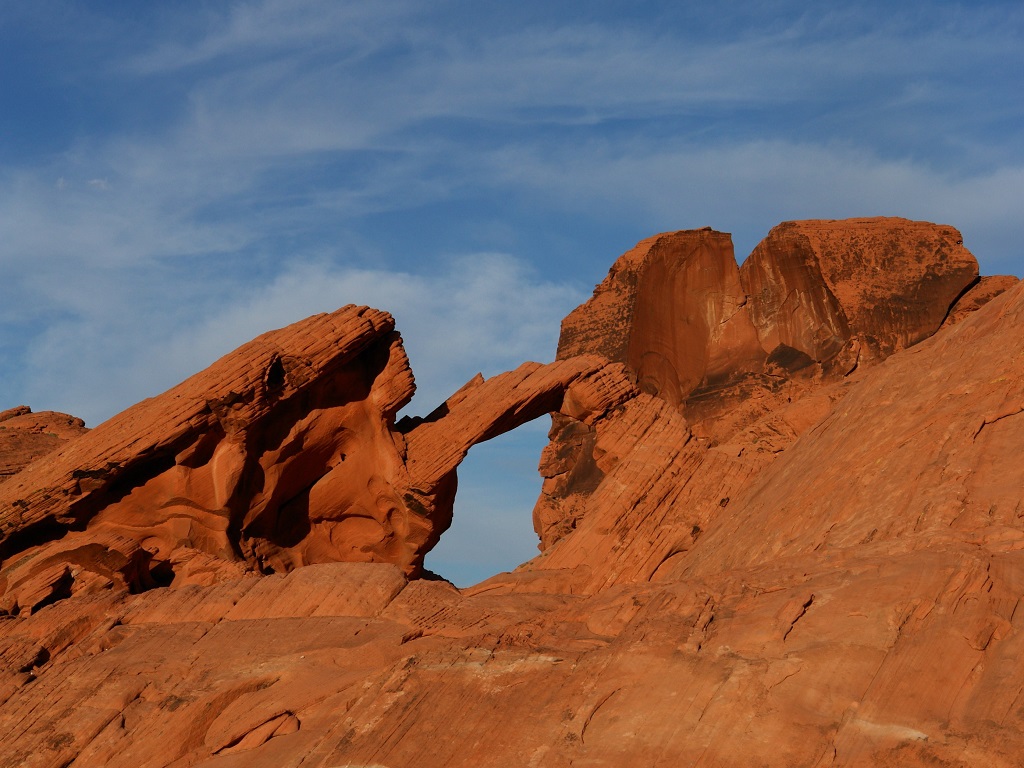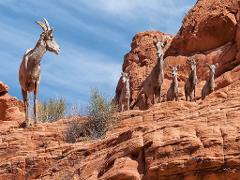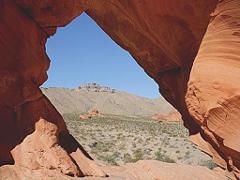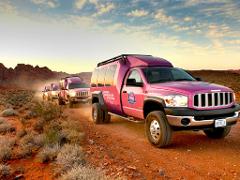 Duration: 6 Hours (approx.)
Once at the park, there's no time to lose. To the north is Rainbow Vista. This lookout boasts amazing views of the White Dome and Duck Rock. Rainbow Vista showcases its own admirable canyons, domes, towers, ridges and valleys carved from sand deposited over 150 million years ago. This landmark is a true contrast to the red sandstone landscape found at Valley of Fire. The surface of Rainbow Vista shows off a range of yellows, gold, and reds mixed as if stirred together.
Atlatl Rock stands to the west of Valley of Fire State Park. This sandstone rock was named after a throwing stick or dart thrower used by ancient tribes that gave more force behind their launched darts and spears. Atlatl is famous for its outstanding petroglyphs. What do these images mean? This artwork has yet to be deciphered by anthologists and archaeologists.
The Cabins are the Valley of Fire's manmade treasure. The Civilian Conservation Corps (CCC) built these two rock cabins in the 1930s by using native sandstone. The Cabins were designed to shelter weary travelers, so take a rest and enjoy the astounding sights of the park. You're sitting at one of the best photography spots at Valley of Fire, so grab your camera and capture this marvelous landscape.
Stop and eat lunch with us at White Dome. White Dome provides incredible views of the colorful rock formations at Valley of Fire. How many movies were filmed along this breathtaking region? The list can be found on a sign along the way. White Dome features an incredible slot canyon that is 75 feet high. Twist and turn with the natural grooves and curves where entrance and exit can never be seen at the same time.



TOUR HIGHLIGHTS

Rainbow Vista
Atlatl Rock
The Cabins
White Dome
Elephant Rock
Visitor Center
VALLEY OF FIRE STATE PARK TOUR
TOUR INCLUDES

Personally guided and narrated tour
Unlimited Complimentary Water
All fees included
lunch provided on the tour
Small group experience
Complimentary hotel pick-up and drop-off
* Nevada law requires children to be properly secured in a car seat until they are at least 6 years old and 60 lbs. No children under 2 will be permitted on tour.
Please call us for special requirements such as a car seat. Collapsible wheelchairs acceptable when accompanied by another adult.